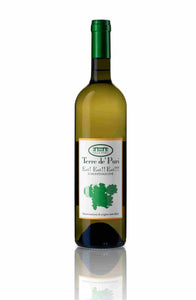 Typology: white;

Vines: different clones of Trebbiano and local and indigenous Malvasia grapes, according to the production regulations of the East! East! East!!!;

Vintage: 2019;

Alcohol: 13.5%;

Format: 0,75l / 0,375l;

Soil typology: medium hill position, sloping towards the lake, in soils of volcanic origin and rich in skeleton and tending to loose, therefore draining, not subject to stagnation and rich in slowly assimilable potassium;

Production area: hills of Lake Bolsena, south-west exposure, altitude from 350 m. at 450 m a.s.l. ;

Serving temperature: 10 ° -12 °;

Harvest: manual and differentiated in two stages to harmonize the organoleptic characteristics and the physico-chemical components of the musts;

Tasting notes: crystalline, straw yellow color enriched with golden reflections. Olfactory impact of good intensity and finesse with hints of yellow pulp fruit and dried fruit. In the mouth it is broad, with great persistence and balance. The body is supported by an excellent freshness and flavor;

Pairing: suitable for white meats, lake and sea fish from appetizers to main courses. Excellent combination with stewed pike, which enhances its complexity and acidity.