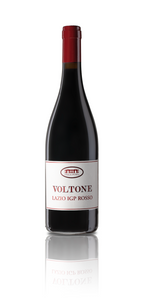 Typology: red;

Grapes: Sangiovese expressed in different clones, Montepulciano and Ciliegiolo;

Vintage: 2019;

Alcohol: 13%;

Format: 0.75l / 0.375l;

Soil typology: medium hill position, sloping towards the lake, in soils of volcanic origin and rich in skeleton and tending to loose, therefore draining, not subject to stagnation and rich in slowly assimilable potassium;

Production area: hills of Lake Bolsena, south-west exposure, altitude from 350 m. at 450 m a.s.l. ;

Serving temperature: 14 ° C / 16 ° C;

Tasting notes: ruby red color with violet reflections on the nose quite intense with notes of red fruit, such as black cherry and plum. Good acidity in the mouth; pleasant and persistent finish.

Pairing: from first courses with meat sauces, to baked red meats and feathered game.