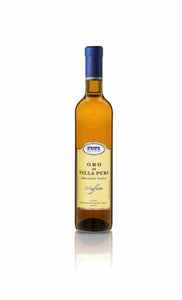 Typology: moldy white;

Grapes: 100% Moscatello;

Vintage: 2019;

Alcohol: 14.5%;

Size: 0.5L;

Soil typology: medium hill position, sloping towards the lake, in soils of volcanic origin and rich in skeleton and tending to loose, therefore draining, not subject to stagnation and rich in slowly assimilable potassium;

Production area: hills of Lake Bolsena, south-west exposure, altitude from 350 m. at 450 m a.s.l. ;

Serving temperature: 12/14 °;

Tasting notes: In the glass it is straw yellow in color tending towards golden. Rich olfactory impact, reign supreme

notes of dehydrated fruit, honey, caramel and saffron. On the palate it is delicately sweet, with a sapid-mineral and pleasantly bitter component. Enveloping persistence;

Pairing: aged or spicy and blue cheeses, dry pastries.