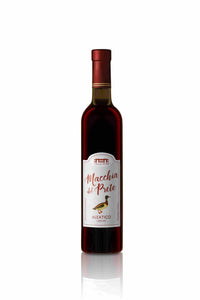 Type: sweet red;

Grapes: 100% aleatico;

Vintage: 2019;

Alcohol: 12%;

Size: 0.5L;

Soil typology: medium hill position, sloping towards the lake, in soils of volcanic origin and rich in skeleton and tending to loose, therefore draining, not subject to stagnation and rich in slowly assimilable potassium;

Production area: hills of Lake Bolsena, south-west exposure, altitude from 350 m. at 450 m a.s.l. ;

Serving temperature: 14/16 °

Tasting notes: in the glass it has a garnet color with violet reflections. On the nose floral and fruity hints that mix with a slight spiciness: rose petals, fresh fruit, musk and pink pepper. In the mouth the fruity component returns supported by a good structure and a sweetness balanced by the freshness, flavor and softness of the tannins. Of body.

Pairing: ideal companion at the end of dinner, it goes well with dry and refined pastries like the simple one for which cantucci and shortcrust pastries, tarts with red fruit jam are welcome.