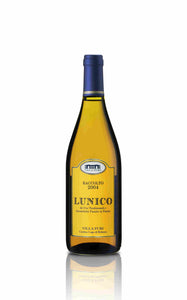 Type: passito white;

Grapes: 100% Moscatello;

Vintage: 2004;

Alcohol: 14%;

Format: 0.75l;

Soil typology: medium hill position, sloping towards the lake, in soils of volcanic origin and rich in skeleton and tending to loose, therefore draining, not subject to stagnation and rich in slowly assimilable potassium;

Production area: hills of Lake Bolsena, south-west exposure, altitude from 350 m. at 450 m a.s.l. ;

Serving temperature: 12/14 ° C, it is advisable to open the bottle at least half an hour before;

Tasting notes: at sight it is a deep straw yellow color with golden reflections. The nose is intense, with notes of ripe fruit such as apricots, figs, bananas and honey. The taste has a controlled sweetness, good freshness, excellent salinity and great persistence. Wine obtained by drying the grapes on the plant with consequent formation of noble rot which gives a characteristic taste and flavor.

Pairing: aged and blue cheeses, foigras, tasty fish and meats such as wild boar and game in general.