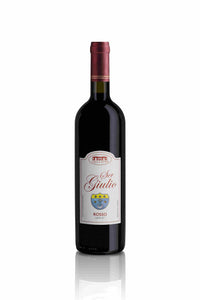 Typology: red;

Grapes: Bordeaux blend, Cabernet Sauvignon, Merlot and Sangiovese;

Vintage: 2015;

Alcohol: 13%;

Size: 0.75L;

Soil typology: medium hill position, sloping towards the lake, in soils of volcanic origin and rich in skeleton and tending to loose, therefore draining, not subject to stagnation and rich in slowly assimilable potassium;

Production area: hills of Lake Bolsena, south-west exposure, altitude from 350 m. at 450 m a.s.l. ;

Serving temperature: 14 ° / 16 °;

Tasting notes: garnet red, quite complex, ripe fruits such as blueberries, currants and black cherries on the nose, hints of vanilla, balsamic and Mediterranean scrub on the palate. A full-bodied wine, fairly tannic and modest acidity;

Pairing: grilled meat, game. Excellent with truffle roast veal.