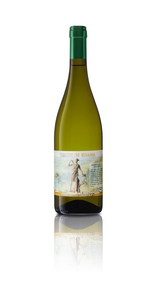 Typology: white;

Vines: different clones of Trebbiano and Malvasia combined with old local and indigenous varieties;

Vintage: 2019;

Alcohol: 12.5%;

Format: 0.75l;

Soil typology: medium hill position, sloping towards the lake, in soils of volcanic origin and rich in skeleton and tending to loose, therefore draining, not subject to stagnation and rich in slowly assimilable potassium;

Production area: hills of Lake Bolsena, south-west exposure, altitude from 350 m. at 450 m a.s.l. ;

Serving temperature: 10 ° -12 °;

Tasting notes: straw yellow color with greenish reflections. Intense and persistent bouquet. Floral notes of hawthorn and white pulp fruit such as Williams pear. Pleasantly savory in closing.

Pairing: perfect with cured meats, vegetables in batter, fried seafood and with slightly aged cheeses.